Data Clymer was recognized alongside Snowflake, Databricks, Sigma, and other industry leaders for delivering transformative data productivity across the enterprise.
We're thrilled to share that we've been named Matillion's Americas Partner of the Year (Commercial) in the 2023 Emerald Awards, which celebrate innovation and success in data productivity. Award judges stated: "As a longstanding cloud data and analytics partner, Data Clymer stands out with a high level of expertise and a deep bench of Matillion-certified practitioners."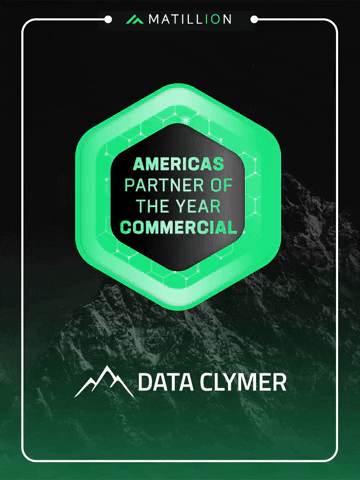 Helping Organizations Unlock the Power of Data
"Our vision is to empower every organization's success by unlocking the value of data," said Aron Clymer, CEO of Data Clymer. "Matillion has been an integral part of driving that mission forward. We look forward to continuing to work together to deliver trusted solutions that drive positive results for organizations across all industries."
Data Clymer and Matillion welcomed nearly a dozen new joint customers in 2022 including the non-profit RISE Partnership and software company Cayuse. Long-standing Data Clymer and Matillion customers include notable organizations such as Peet's Coffee, the Las Vegas Raiders, the San Francisco Giants, and Charlotte's Web.
Delivering Transformative Data Productivity
Since becoming a Data Clymer and Matillion customer, RISE's data team has seen dramatic productivity improvements and reports a 20% time savings.
Nathan Beil, Director of IT Systems, commented, "Matillion, Snowflake, and Sigma work well together, but Data Clymer is the glue that holds all of them together. To be able to move things forward instead of doing manual operational work is a big win. Instead of putting out fires, we can look forward and provide better service to our programs."
Data Clymer and Matillion Partnership Milestones
Other notable highlights of the partnership include:
Deep bench of expertise: 38% of Data Clymer's data team has earned the Matillion Associate Certification, proving they have mastered extracting, migrating, and transforming data in the cloud using Matillion ETL.
Joint solution offerings: Data Clymer, Matillion, Sigma, and Snowflake launched Data to Insights, a joint packaged solution to help organizations quickly move from data to insights with a complete, end-to-end modern data stack and dedicated data engineering assistance.
Educating the community: Thought leaders from both teams joined together for presentations at AWS re:Invent, Snowflake Summit 2022, and a joint webinar on elevating marketing performance in collaboration with marketing analytics leader Flywheel Software.
Upcoming Events
Next on the horizon, the teams will unite to help organizations use data to thrive in an uncertain economy. Register to join our April 4 webinar and hear insights from Data Clymer, Matillion, and OpenTeams, a network of open source architects (OSA).

Data Clymer and Matillion Consulting Services
The Data Clymer team offers a wide range of Matillion consulting services to help organizations accelerate data time to value and maximize their investment. Contact us to learn how we can help.